"This is literally the best wine I've ever f*cking had."
"Damn bruh, this is smooth."
"I AM DOWN TO VYB FORSUR H8RS NOT WELCOM THO LMAO"
"I used to live a trash life. I literally slept in a dumpster outside an empanada store, then I tried Vyb and my whole life changed for the better - now I'm married! Thank you!!"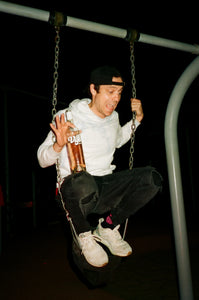 WHAT'S GOOD
"Ok but why would you make another rosé brand? There's like a million out there..."
KEEP READING
WHERE TO PARTY
Vyb is available at the following locations:
CALIFORNIA
LOS ANGELES COUNTY
BURGUNDY ROOM
1621 1/2 N Cahuenga Blvd, Los Angeles, CA 90028
CANDELA LA BREA
831 S, La Brea Ave, Los Angeles, CA
90036
IVANHOE RESTAURANT & BAR
2500 Riverside Dr, Los Angeles, CA 90039
JONES
7205 Santa Monica Blvd, West
Hollywood, CA 90046
THE LIQUOR FOUNTAIN
5203 Fountain Ave, Los Angeles, CA 90029
NEIGHBORS - PLAYA VISTA
12751 Millenium Drive, Los Angeles, CA 90094
 UNCORKED
1000 Manhattan Beach Ave, Manhattan Beach, CA 90266
NORTHERN CALIFORNIA
 SACRAMENTO PUNCH LINE
2100 Arden Way, #225, Sacramento,
CA 95825
 SANTA BARBARA COUNTY
BACKSTAGE DUELING PIANO BAR
409 State Street, Santa Barbara, CA
93101
EOS LOUNGE
500 Anacapa Street, Santa Barbara,
CA 93101
KEG N BOTTLE
915 Embarcadero del Mar, Isla
Vista, CA 93117
 HOLLISTER BREWING COMPANY
6980 Market Pl, Goleta, CA 93117
 SANTA BARBARA FISHOUSE
101 E. Cabrillo Ave, Santa Barbara,
CA 93101
RODEO ROOM
231 W. Montecito St, Santa Barbara,
CA 93101
 STUDIO BAR & SOUNDROOM
28 Anacapa St, Unit C, Santa
Barbara, CA 93101
 SPORTSMAN LOUNGE
1226 State Street, Santa Barbara,
CA 93101
 INDOCHINE
434 State Street, Santa Barbara, CA
93101
 O'MALLEYS BAR
523 State Street, Santa Barbara, CA
93101
 MESA LIQUOR
1818 Cliff Drive, Santa Barbara, CA
93101
 PRESIDIO MARKET LIQUOR & GRILL
1236 Santa Barbara Street, Santa
Barbara, CA 93101
 WILDCAT LOUNGE
15 W. Ortega Street, Santa Barbara,
CA 93101
 LAMA DOG TAP ROOM + BOTTLE SHOP
116 Santa Barbara Street, Santa
Barbara, CA 93101
 SAN DIEGO COUNTY
 THE LAUGH FACTORY
432 F Street, San Diego, CA 92101